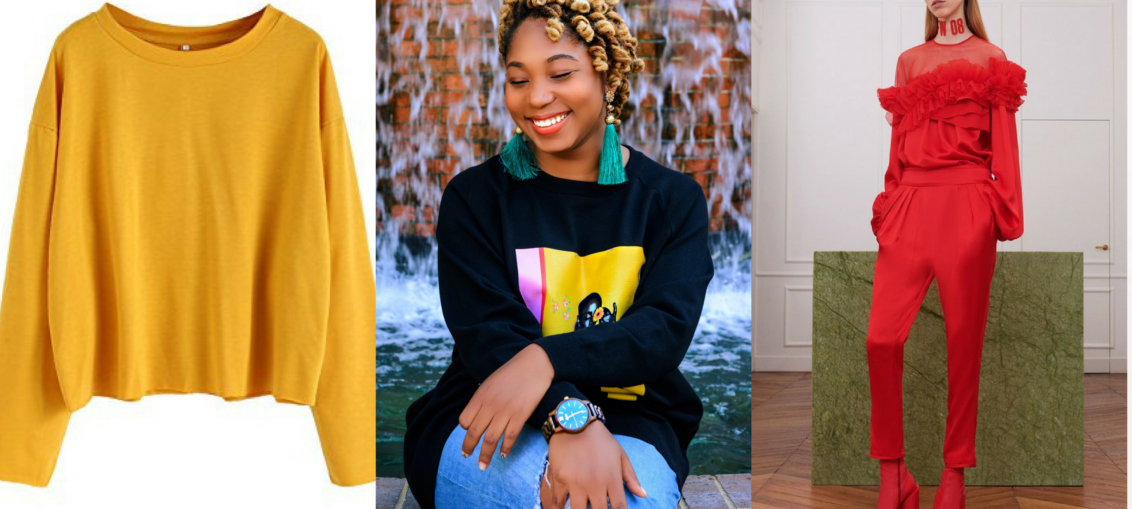 Fall has come and quickly tried to leave us, and I'm left wondering how much more time I'll have to rock my amazing Fall ensembles. Don't fret though, my misfits, for I'm talking to you about the top fall trends we've seen and how we can create them.
I grabbed celebrity stylist,
Mieka Reese
, to share with us some of our favorite fashion trends for the fall and how we can make it pop. Check out our interview below:
Okay, so spill the tea. What are some of your favorite fall fashion trends this season? 
My two favorite are velvet and fanny packs/ waist bags! I absolutely love this trend and hope it sticks around for a while.
What about the trends we saw during NYFW?
During New York Fashion Week, a trend I saw was RED! The color was everywhere! Designers like Givenchy, Fendi, and Oscar De La Renta used red to make a statement this Fall. My favorite was the shiny and rich use of crystals and glitter! We saw these sparkling gems on the runway of YSL, Chanel, Oscar De La Renta, and Gucci, especially on their shoes, bags, clothes, and even head "sweat" bands.
Definitely so! What do you think we should expect to see this Fall, especially on the high street or in fast-fashion circles?
 Again, expect to see a lot of velvet, flared bottoms, waist bags, and retro plaids. To replicate some of these trends, I like to mix high and low end pairings. Some of my favorite "low end" spots are Zara, Top Shop, Targé (target).
Do you think there are any trends we should stay away from?
One trend that I feel is "restricting" is sheer! We are seeing sheer everywhere and a lot of women have 'dared to bare'.. I don't like say a style is only okay for a certain body type; however I, personally, am not a fan of seeing any size woman in sheer without proper undergarments!
What are three things we should have this Fall?
3 Things to have this Fall would be:
A fanny pack
Leather/suede/velvet over the knee boot
Oversized "pajama" shirt (they are flattering to most shapes when styled correctly).
 Now for the fashionista who can't go and splurge on an entirely new wardrobe, what are some staples she should definitely have in her closet?
The best affordable staple pieces that go with any outfit is a good blazer, a wide logo belt, and a backpack. I think a good balance of staple pieces and trendy pieces is so important! I know I buy a lot of trends and I'm trying to find a better balance. Although trendy keeps you up to date and buzz worthy, trends change at the drop of a dime with no notice and can leave you feeling like you've wasted money! It's good to build your staple pieces and add a sprinkle of trends. Some staple pieces that everyone should have are slip dress, leather jacket, boots, SPANX (undergarments), leather purse, wide leg pants, and platform shoes.
So should we toss the super trendy things out?
 Cleaning the closet out, I always keep in mind that everything comes back in style! I try not to keep everything but I do know that just because it's not in style now doesn't mean it won't be soon! Don't be afraid to throw things away and start fresh, sometimes getting rid of the old and trying new styles helps attract new opportunities.
What's your favorite staple piece in your wardrobe?
My favorite timeless staple piece is the Chanel classic flap bag.