I remember the first time I ever saw a wedding dress that moved me. I thought to myself, "I wonder what made the designer choose this particular cut? What story were they trying to tell?" You see, art to me is only as complicated, beautiful, and moving as the artist. And for Barbados-based designer Jaye Applewaite, it's art that's transforming the culture of Caribbean designers.
Applewaite attended the coveted Knot Couture Show this season as one of just a handful of designers from the Caribbean. Just for a bit of context, The Knot Couture Show is the closing exposition of New York Fashion Week: Bridal and is noted as a launching pad for the next generation of bridal couturiers. Oh, did we mention she's is one of only 75 presenting designers, and one of just a HANDFUL from the Caribbean?
Now, when we talk about pivoting careers and pursuing your passions, one should definitely know Applewaite's story. Being a smart student with a knack for studies, she pursued a career in civil engineering in lieu of the arts, her long-time passion. "I was a smart kid, so the career options were chosen for me – doctor, lawyer, or engineer," Applewaite said. "But I grew up witness to the magical wedding scene in Barbados and I knew deep down inside that I wanted to join that industry in a creative way – I just wasn't sure how."
Jaye went up to Canada to study engineering, worked at several top engineering firms in Canada, and eventually made the move back home. However, despite looking like she was successful, Applewaite was living paycheck-to-paycheck after paying off her loans and felt burnt out, wondering what alternative career options lay ahead. "I was always a creative and passionate person and it was abundantly clear to me that engineering was not my calling," Applewaite said.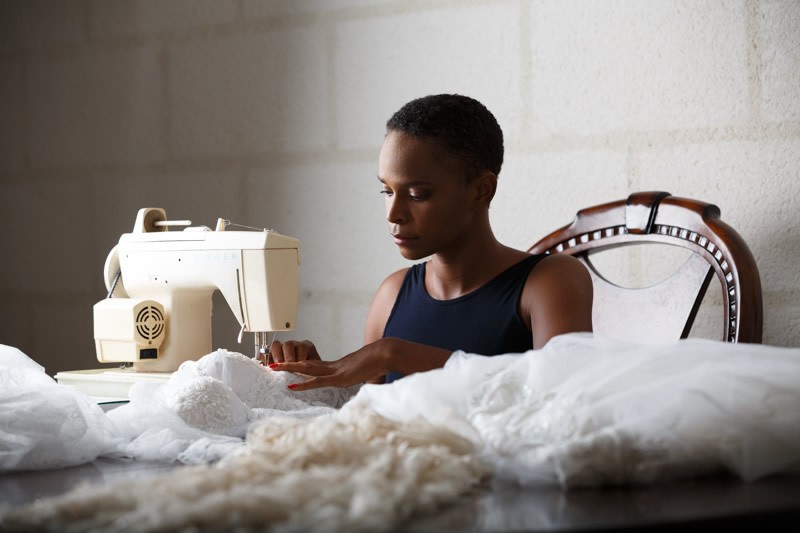 However, in 2014, things turned around when her engineering firm had a downturn and her employment status changed. The extra time nonetheless proved to be momentous, as it allowed her to explore her entrepreneurial dreams of starting a bridal line with a $500 gift from her aunt. The rest? History.
Despite the obvious growing pains of becoming your own #Misfit boss, Jaye knew that her dream had to supersede any fears she had. "It seemed like a crazy idea at first, but I was always fascinated by wedding customs and dresses. I wasn't seeing the kinds of feminine, beautifully fitting dresses that inspire me, so I wanted to create my own line – even if I didn't know how to sew."
In just two weeks, with the help of her close friends, she came up with five pieces. "I stitched and sewed day and night to get those pieces ready. To this day I am proud of the tenacity I put forth to pull that off," Applewaite said. "I was four months pregnant at the time and thought that if I didn't do this for myself, I needed to do this for my child." The lingerie was well received and in 2015 she officially began designing dresses. Shortly thereafter she launched her social media pages and site, and began to see her first editorial placements.
Nowadays, Applewaite's recognized as Barbados' top luxury wedding dress designer, standing out with intricate beadwork, quality fabrics and feminine floral designers. Her dresses are sexy, but not overbearing–they show us all that n our special day, there's a beautiful air and magic you deserve as a bride. "My dresses are a works of art, and seeing the finished product on a bride at what is often the happiest moment in a woman's life is the job of a lifetime. I am so fulfilled."
However, the ambitious designer isn't stopping with bridal wear. In the near future, she hopes to also jump into resort wear and jewelry. We know that no matter what she does, her story of resiliency, pressing the reset button, and pursuing your dreams shows that it's never too late to just start. If you've got a dollar and a dream (oh, and ambition), you may just find yourself succeeding at every dream you've ever had…and representing your entire country at the Knot Couture Show. She's a testament to hard work and proves that even if you're a young mom or come from a family that encourages a "safer" career choice, you can follow a creative path that bears fruit.