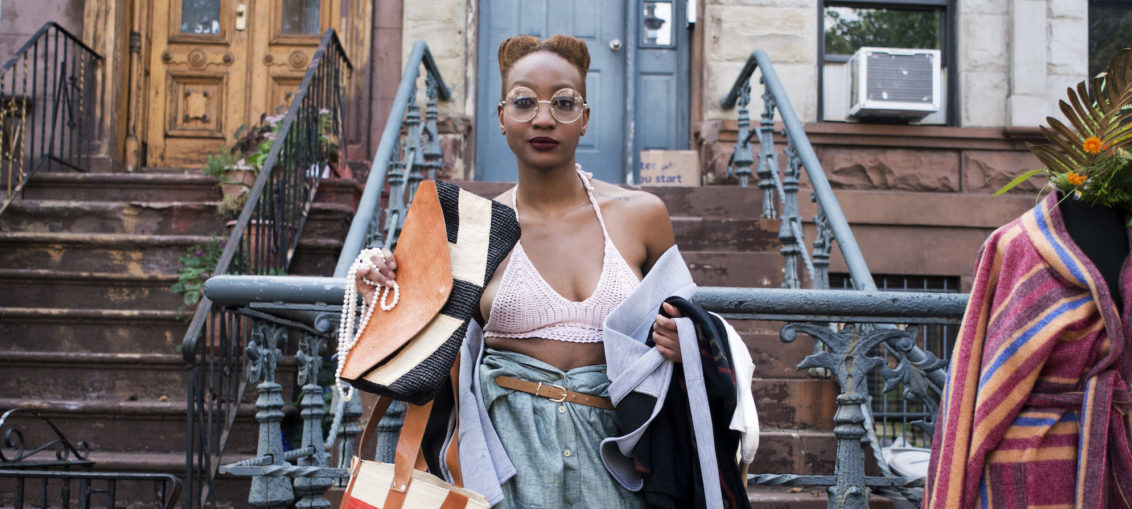 Not all superheroes wear capes. Some of us write, protest, and push back. Some of us donate our time and money to charities, organizations, or speaking on panels. Some of us teach the youth, help the elderly, or find a way to advocate for others. Others of us redefine what traditional media looks like, starting with making sure that brown skin is always reflective in the work we do.
TheBlondeMisfit had the amazing opportunity to talk with Amanda Moore-Karim, the founder of Luxy Haus and a plethora of editorial projects, on what fuels her to continue to create good work. It felt like talking to a sister-twin or a longterm friend you haven't seen in forever, but when you speak, it's like you never stopped. Check out how Luxy Haus (whose site is coming at the beginning of October!) is helping make sure representation is an ever-present factor, lessons learned working in fashion, and how #blacklivesmatter (because…of course):
Tell us about yourself! 
For starters, I'm a free-spirited nomad. I'm originally from the outskirts of Chicago and ventured to Howard University to pursue a degree in Business. After graduating, I moved back home to save to move to London, UK to study Fashion Buying at London College of Fashion. At the completion of the Postgraduate program, I returned home to save to move AGAIN (poor mom) to the land of opportunity that is New York City. So for two years, I've been residing in Bed-Stuy, Brooklyn attempting to make a name for myself.
I'd consider myself a professional freelancer. Currently, I'm working on an ongoing assignment in Retail Buying for Men's Shoes; independently, I work as a wardrobe stylist and team up with some of the most amazing emerging creatives in the industry.
What would you say you have added to fashion doctrine and the conversation on racial politics in the industry?
I'd say illustrative and compelling content. There are so many topics to be addressed in terms of racial politics; it seems like a conversation that will never cease. My way of adding to the fashion doctrine is to voice my political views through fashion photography. Whether it'd be showcasing the radiance of black women of all hues, addressing the ideology of "Black Tax," or surfacing a conversation on the lack of synergy among the Black female race, my aim is to be expressive through color, exquisite wardrobe, and 'home-hitting' visual concepts.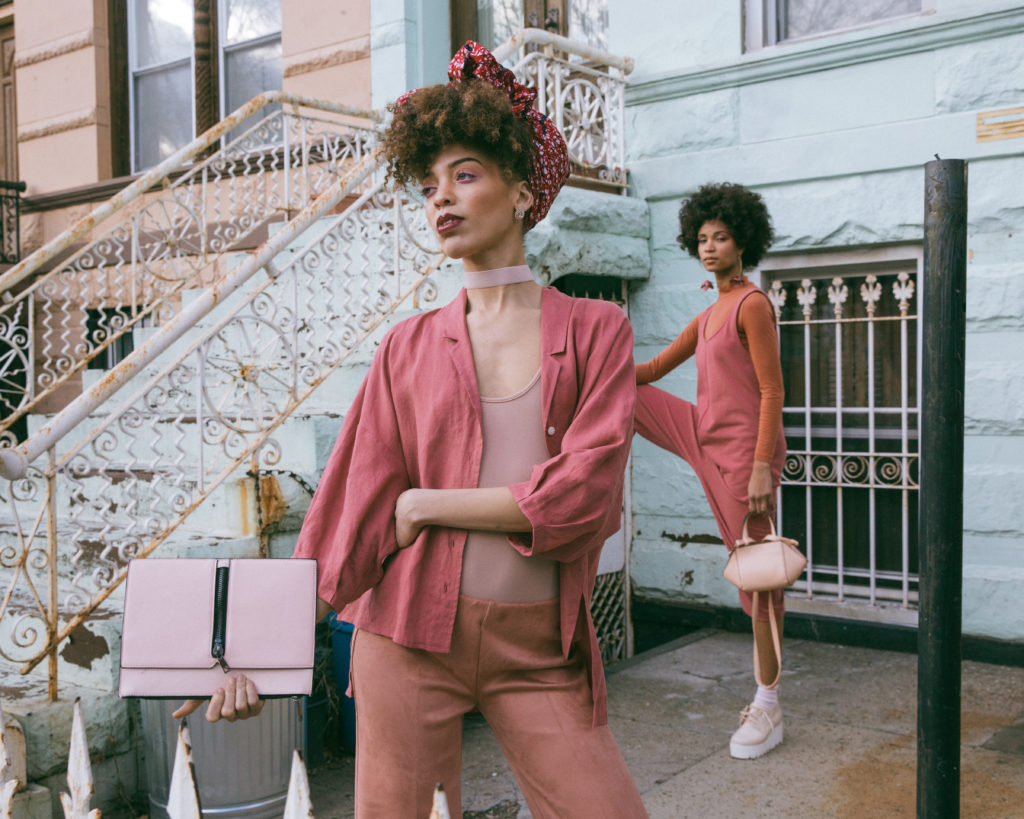 How did your interest get sparked in the fashion industry? Why did you specifically choose to focus on the representation of PoC in the fashion industry?
My inspiration begins where my experience ends. Most times, there was an incident that I experienced or incidents that I witnessed. My adrenaline begins to rush and emotions begin to rise. I become vulnerable and it leads me to expression. I'm an extremely communicative individual – I want to be heard. As a Black woman who has went through moments of racial profiling, negative perceptions based on my pride in my natural composition, or being called into an interview because my name is racially ambiguous, I found it a responsibility. As an artist, I was responsible for expressing myself for not only me but for all people of color who find my work relatable. I wanted to create a platform that was inclusive in such a secluded industry.
I've spent some time bouncing around the industry as a freelancer. I've done stylist assisting on projects for mags like Interview Magazine, Vogue UKRAINE, and Vanity Fair; Retail Buying and Wholesale; and freelance writing for Fashionista. At Fashionista, I was allowed to be expressive – I talked about whatever I wanted to talk about. From the history of Bantu Knots to Fashion and Beauty brands expanding the definition of 'nude,' I had the opportunity (as a Black artist) to create relatable content to all Black women who were readers of the platform.
I've definitely witnessed and went through instances that made me scratch my head. I've had a recruiter tell me she was concerned I wouldn't fit into the 'culture' of the team. Mind you, she reached out to me because she thought she was going to meet a different kind of "Amanda Moore."
. I've watched other women of color be teased or asked ignorant questions about their hair texture and undergo a sense of social anxiety. I'm not allowed to show my emotions about a situation because I'll be deemed as "angry." I have to be quiet or I'll be deemed as "outspoken."  As a matter of fact, most of the things I've experienced ANYONE of color can find relatable.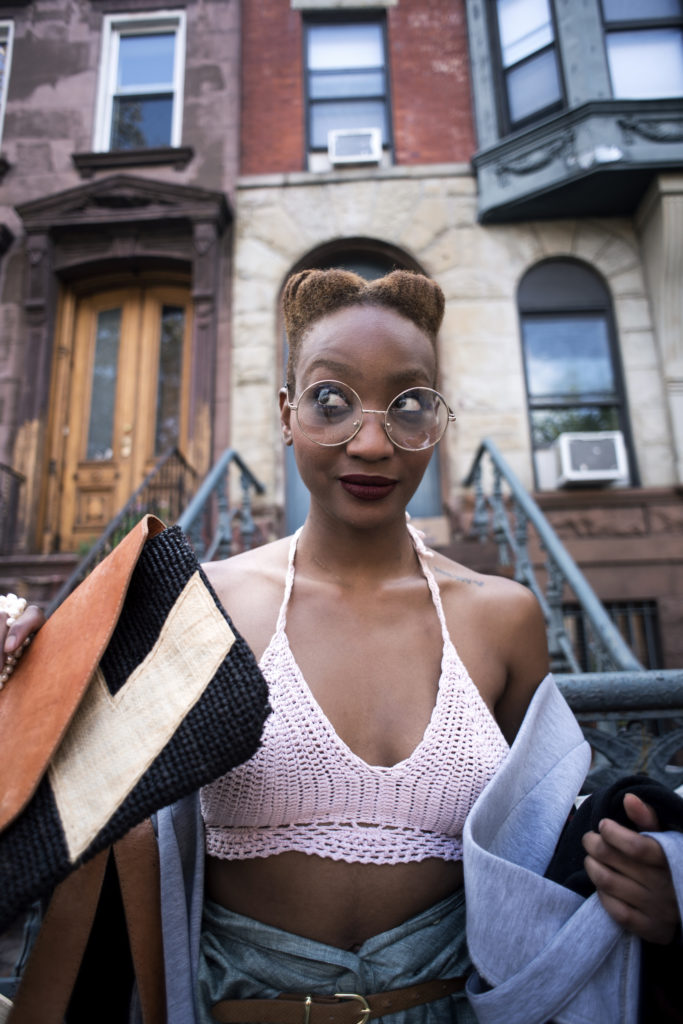 What opened your eyes to the imbalance/under/mis-representation of POC? In the line of work you do, how bad would you say it is?
When I would be on set and was the only Black person in the room honestly. I had to make sure whatever I said wouldn't offend the precious non-Black ego (which is damn near everything). I had to bite my tongue any time someone would try to make a "Black joke" or hear someone say "N*gga" because they were singing along with the song playing. The major thing I noticed was hair stylists trying to do an urban hairstyle (Bantu Knots, cornrows) on loosely textured hair. Like why are you doing that? There were plenty of models of color with the perfect texture for those styles the casting director could have chosen.
Diversity on the runways and editorial campaigns was definitely climbing! After the #BlackModelsMatter movement, diversity was at an all time high and then gradually started to decay. I was excited for the change. Then something happened. I don't know what it was but it feels like we went back hella years.
What strides have been made toward inclusivity thus far? List examples of models, publications, movements, etc.
People getting in on the conversation and taking accountability for the lack of inclusion in the fashion industry. You have Model Alliance, a non-for profit giving a platform for a model's voice to be heard; Teen Vogue reconstructing their vision to focus solely on socio-political issues; #BlackModelsMatter created by Model Activist (and my dear friend/roommate), Ashley B. Chew – there are so many different movements being made and it warms my heart to witness them. Fenty Beauty x Rihanna is one of the most fascinating marketing movements to witness and it's not just because of her status. This beauty brand caused such a ruckus in the industry that it forced other beauty brands to promote inclusivity of skin tones. That is AMAZING! This ONE person has the beauty industry running frantic; realizing that inclusion is important. Honestly, I think it's genius.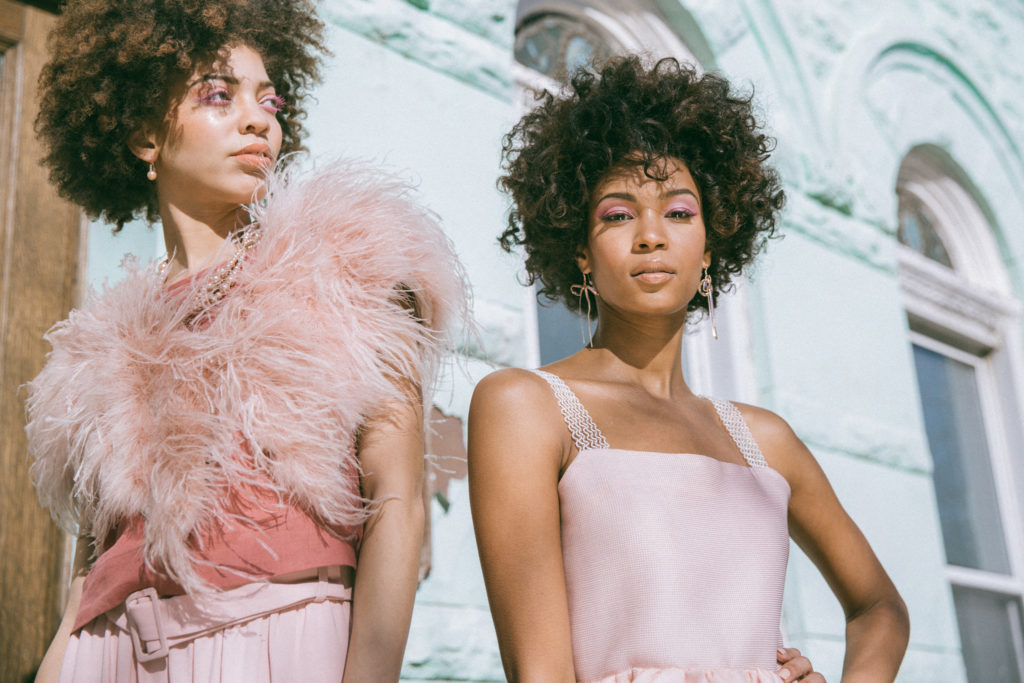 What strides have YOU made and worked on that you hope leave a lasting legacy? What are you hoping your legacy will be?
Besides creating a platform showcasing models of color and illustrating my views on racial politics through sweeping imagery, I've decided to add something else to my agenda. Currently, I'm in the development stages of launching my own fashion editorial magazine in print. The idea is to create a space focusing on black influence and empowerment in the industry; highlighting creatives of color; and intertwining my original platform by addressing socio-political issues through my work accompanied by compelling literature. The magazine will be quarterly, print on demand, submission based and visually driven. I want to create something inclusive that other people of color can engage with. I want people to recognize this magazine more than just pretty images of colored models but a symbolism of triumph over the seclusion of the industry and society holistically.
I'm not sure how I'll be remembered – everyone has their individual opinions about me. The one thing I KNOW that I'll be able to leave behind me is that I was a creative activist who had the relentless will to fight for my people through the power of art.
What is the vision/goal/desired outcome of pushing for inclusivity? How will inclusion benefit the culture and what we consume as media and as people?
I feel if inclusivity is pushed from a strategic marketing standpoint, the rest will follow. I want to create something so powerful and moving that the remaining of the industry recognizes the necessity of inclusion. All it takes is that ONE interview coverage to make something go viral (again, look at Fenty Beauty and #BlackModelsMatter). Now, I don't consider myself the most public of figures on Instagram but I confidently consider myself a creative maven – I'd like my work to be a product of inspiration for those elitists in the industry who are still blinded by their secluded mindset.
If all we see is one particular type of woman/man portrayed in the media all the time, then how can we be relatable as consumers? If I see a fashion campaign with all white models, I'm going to psychologically assume this marketing tool wasn't for me to acknowledge. It doesn't cater to me. Now if I see a fashion campaign with mostly white models and one model of color thrown in for flavor, cynical me is going to be like "they only threw her in there to not catch heat on not being inclusive, they don't care if people like me buy their brands." Inclusivity comes from a genuine place – you create something because you're catering to a plethora of consumers who will enjoy your products. Consumers know when something was crafted just for them because they're vulnerable when it's given to them. Inclusivity creates cohesion among the people where everyone can feel a part of the conversation. What brand wouldn't want that?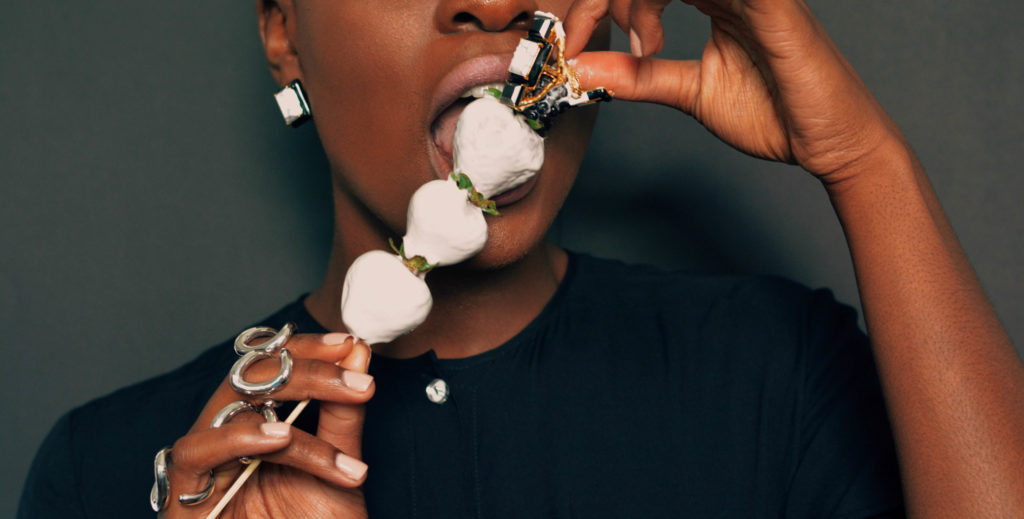 For people working to do/be what you are and what you do, what advice or tips would you give to them? What lessons have you learned along the way that you wish someone had shared with you?
Keep working and don't let anyone/anything tell you "you can't." I decided years ago I wanted to pursue an industry that doesn't cater to me. I was turned down in interviews because of my natural composition, told my work doesn't fit the 'tone' from numerous publications, undermining my worth by taking stylist intern roles that don't pay because I was told I didn't have enough experience. I got tired of people and situations telling me what I couldn't do. I built doors when opportunities wouldn't knock. I kept working and producing and disregarded the doubters.
The Art of Fear is what I've learned. A quote that I live by now is "Everything you want is on the other side of fear." We will never know our truest potential or what we're capable of because we're too afraid to witness our own magic. We're our own worst enemy and that is something I have definitely recognized along the way. Do you think I knew I had the capability to throw together innovative looks for fashion editorials? You think I always thought I had the knowledge and skill to start my own magazine? Hell no! Two years ago, I was like "nah, it's so much that goes into that and I don't have the experience." It was that thinking that kept me from what I truly deserved and I was too scared to recognize my truest potential. God has hand-crafted this journey just for me and I wish someone would have just told me to never lose sight of that and keep trusting Him.
How are you a misfit?
My life choices, impulsive decisions, radical business moves and unconventional business acumen is what truly makes me a misfit. I wasn't put on this Earth to conform and fit in. I was birthed by my mother to cause chaos and stand out.
Anything else you'd like to add?
I FEEL like I said a mouthful. Just to say, it's warming to be granted the opportunity to share my thoughts and story with another Howard Alumna who stands for the same ideologies as me. Thank you.
Thank you Amanda for giving us such amazing insight into the industry, providing us an EXCLUSIVE peek at some of your amazing projects/collaborations, and for launching something that is seriously needed in the industry right now: hope. Ya'll stay tuned because we're definitely going to be chatting about the print vs digital age and how we can all benefit from black creativity. Peace and blessings,