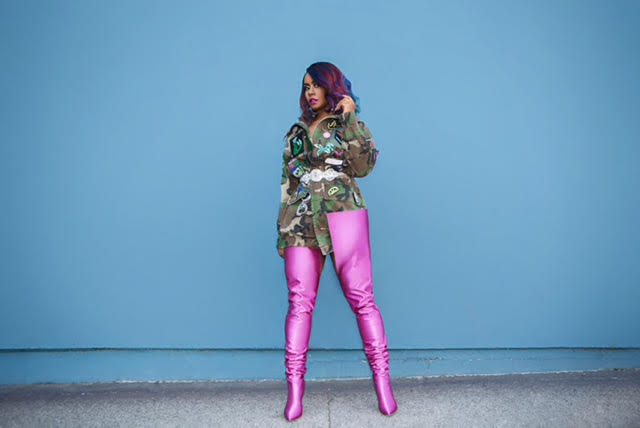 For some of us, styling can feel like a chore. But for others, it can literally feel like an entire world of opportunity. Not only are you thinking of the clothes you're working with, but how they tell a story and convey emotion on the person that's wearing them. The same goes for a designer, who has to think of their clientele and have a hand in everything from conception to execution.
Unfortunately, there are not that many black designers that get a major platform to shine their work, and with the recent passing of designer Mychael Knight, we need black designers to step up to the plate more than ever.
That's why it was wonderful for TheBlondeMisfit to chat with Mieka Joi Reese, who not only sports the hats of designer AND stylist, but juggles the worlds of entrepreneurship and motherhood too. She gave us a little taste in her life:
So tell us a little bit about yourself!
Hello! I'm Mieka Joi Reese, born and raised in Chicago. I currently live in Chicago suburb. With me, a little back info: one of my mom's closest friends when I was growing up was a local fashion designer named Barbara Bates. I used to go to Barbara's shop as a young 6-year-old girl, we would design purses and clothes for my dolls, and then she would help me sew and make them. My mom was really stylish– she wouldn't leave the house unless she was "dressed" lol. She would wear these custom pink, yellow, orange, any color you could imagine, tailored skirts or pants suits with open back blazers or off the shoulder blazers, even back then! I'm talking Claire Huxtable meets Naomi Campbell vibes. So fashion was always apart of me and I always wanted to do something in the fashion world. Even after delivering me, my mom and dad brought me home in a Gucci GG signature fabric bassinet and baby blanket (
Ed Note: These are goals I'm trying to live by, haha)
. I went to college for Mass Media Arts, majoring in public relations and marketing advertising. I started interning for Roc-a-Wear my 2nd year in college, by assisting the district buyer for the brand in Atlanta. I always wanted a focus on fashion, writing, designing, styling, marketing, everything fashion! So that's how I began "Socialite Styling".
So you've definitely been working! Tell us about how you got your start with your businesses.
When I was pregnant, I had the idea to start Rich Girl Candy as a high-end resale site. The idea came from my shoe size going up after pregnancy and having lots of new or barely used designer shoes I no longer could wear. I had some branded T-shirts and jogging suits I designed for the site as well, and eventually found myself only wanting to design and focus on that part of the site and brand.
For me, the saying "it's not what you know, it's who you know" grows true. I was blessed to have a massive network, from friends to family friends, to being at the right place at the right time! To date my favorite person to dress is my son, Pj, of course.
What is a day in the life of a business owner? Walking in your shoes?
A day as a business owner requires a lot of emails, trips to FedEx/Post office, fittings, fabric swatches, comparing qualities especially for some of the products I offer, like phone cases, I get manufactured in China. So my work day doesn't end at 
5pm
. I have to set alarms to wake up/stay up at 
midnight
 which is when I begin skype meetings with my partners overseas. Those last to about 
4 A.M.
, 
5 A.M.,
 then my work day here begins at 
9 A.M.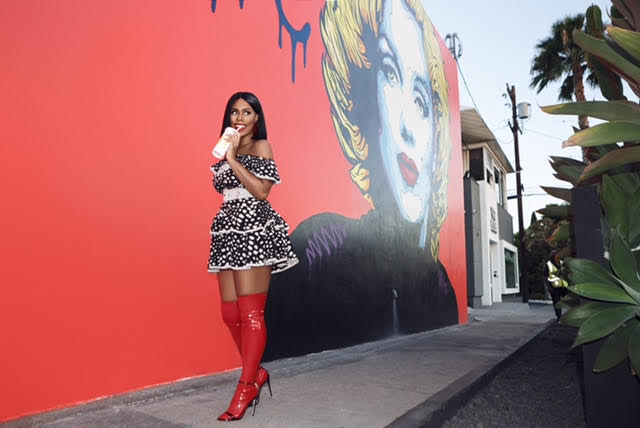 What's the difference in being a stylist versus being a designer?
The difference between being a stylist and being a designer to me is as a stylist you are finding the best pieces for that individual client! What highlights that one person's best features and brings out their personality through fashion! As a designer, you have to find a way to make the best pieces for the masses–dressing a range of ethnicities, ages, and sizes! In both it's MY version of fashion, MY take on style, and that's the part I love!
What were some obstacles you faced when starting off?
Starting off as a stylist my biggest obstacle was figuring out a way to make money doing what I loved. It was hard to set prices that are fair to you but also make the clients eager to work with you. Also with styling it's a lot of word of mouth so it was hard for me to get my name out at the beginning; you question yourself a lot and wonder if this is what you should do or what if your client doesn't see your vision.
Talk to us about being a mommypreneur!
Being a mommypreneur is so fun to me! My son helps me pick fabrics, color themes, shipments. I love that with my job I can include him a lot. I can take him to the office with me or for him to be able to go to a fabric store with me and then months later seeing the fabric he picked become a collection on the site, is really fulfilling.
What advice would you give to someone looking to become an entrepreneur?
For people who want to become entrepreneurs but are worried about the financial responsibility, I say do your research! There's tons of loans and start up business resources to take advantage of. Also start saving, you have to invest in yourself. However, I understand that it can be a heavy load. It's not cheap at all.
How do you feel about balancing work and life?
Balancing work and life is another obstacle! For me, it's all about scheduling! I block off times and dates for work, work events, meetings, etc… and the same for personal time.
Any last bits of advice you can extend to our misfits?
The best advice I could give or wish I knew before is a lot of people who I considered friends and already successful, saw me as competition! The people who I thought would lend a helping hand because I know I would and I do for others, didn't want to see me surpass them. My advice would be: don't depend on anyone but yourself! Also nobody owes you anything! So the sooner you learn that, and don't be offended when others won't help, the sooner you will find/make a way to do it yourself!!! Also do NOT share your ideas before they are done. I found myself sharing ideas with friends or business associates without thinking twice– more times than I can remember my ideas, thoughts, plans were taken with no remorse.