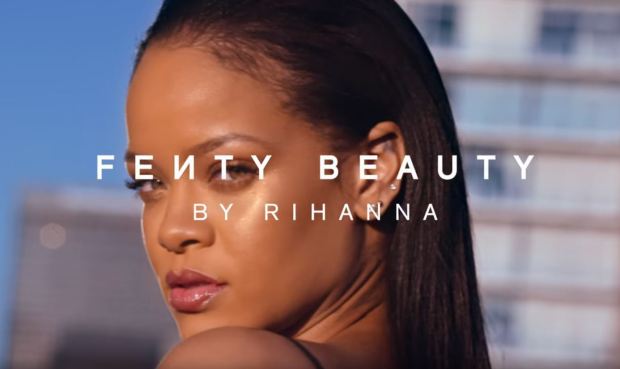 Rihanna actually shut the game down during NYFW when she came through with an entire beauty collection. Of course, influencers, beauty bloggers, and just the entire Navy Gang had to grab a bite of this and that from the collection JUST to see if it would be pawpin'. And of course, Youtube blazed with tons of tutorials and reviews, I think predominately out of FOMO (which, in this case, I completely understood). But, does the collection hold up to standard? I snagged a few things from the collection, and below I've got my unfiltered thoughts on each of them:
Pro Filter Instant Retouch Primer
The Fenty Primer says that it's "pore-minimizing", and while I didn't necessarily notice it minimize any pores on my face, I did notice that it was super moisturizing and nourishing. Also, it was slightly tinted pink, so it didn't give me a ghostly look like a white primer. I'm not sure what it is about this and the foundation either, but it has a scent that I'm thoroughly obsessed with (some say it smells like glue, but I don't know glue that smells that delicious). Overall, I really enjoyed this primer and think it paired beautifully with the foundation. I've told people this, but I think getting the foundation without the primer does a slight disservice. I'm interested in trying it with other foundations (I'm actually trying it out with my new Lancomé foundation, so stay tuned). I didn't think it helped with shininess because I still ended up oily in certain spots that I ended up having to treat throughout the day. Overall, I enjoyed the primer and would recommend.
Pro Filter Soft Matte Longwear Foundation
Perfection. Honestly not even flexin', this foundation was spot on my shade. I picked up #420, though 410 also was a viable option when I get a bit more of a tan and become more warm-toned. And while many talked about it oxidizing (changing colors), I didn't notice the color change whatsoever. I do think it dries down a bit darker, but it doesn't progress to getting darker (which is good because you can get a good gist shortly after putting it on). Very rarely do I find foundations that match my entire face perfectly, but hey, I'm a believer.  Also, it didn't break down on my face, which was great while I was running around NYC during fashion week. I haven't tried building it to a full-coverage yet, but it's pretty amazing as a medium coverage foundation. 40 shades, btw. If anything else in this collection, this was my favorite thing of the line.
Match Sticks Trio
So I ended up buying the trio, which allowed you to get three for the price of two. My shades were in espresso (contour), suede (highlight) and cinnamon(highlight). Espresso I enjoyed because it was a cool-toned contour. Suede didn't really highlight, but paired with my skin. Honestly, I was feeling whatever about the color, and ended up using it as an additional layer of coverage (so if you have this shade and it's a perfect match, you can build it up). I ACTUALLY ended up using Suede as a foundation on one day that I couldn't find any foundations I wanted to use, and it surprisingly held up really well! Once again, the match sticks are really…dry feeling, so it's like tugging at your skin which I'm not a fan of. Cinnamon didn't do much on me as a highlight (nothing, actually), so I used it on my lids to give me a "wet" eye look. Again, something I could pass on but it was decent.
'Trophy Wife' Highlighter
*Sigh* Unfortunately, I'm not a fan. I loved the color, however let's take some notes: TW isn't gold, it's yellow. It's extremely pigmented, however with pigmentation like that, you have to be careful how you apply. Secondly, it applies very glittery, and apparently is dependent on how you apply it (which I don't like). I was told that patting it into the skin first before swiping it is how you get it to apply evenly and not patchy, however I feel like a finely milled highlighter can apply regardless of the type of brush you use. Also, there are quite a few people who have complained of it turning a greenish color, which I'm not sure how (maybe oxidizing?) but I do know that it's not an everyday highlighter. Don't get me wrong: I DO believe TW is redeemable, however I do think there are better options on the market.
So overall, I enjoyed the majority of the collection, all with the exception of TW. Still playing around with it, but others feel the same as I! I think TW is a great little thing to pick up for editorial options, but PLEASE don't feel like your life is ending if you miss out on it.
What about ya'll? Did you try anything out?