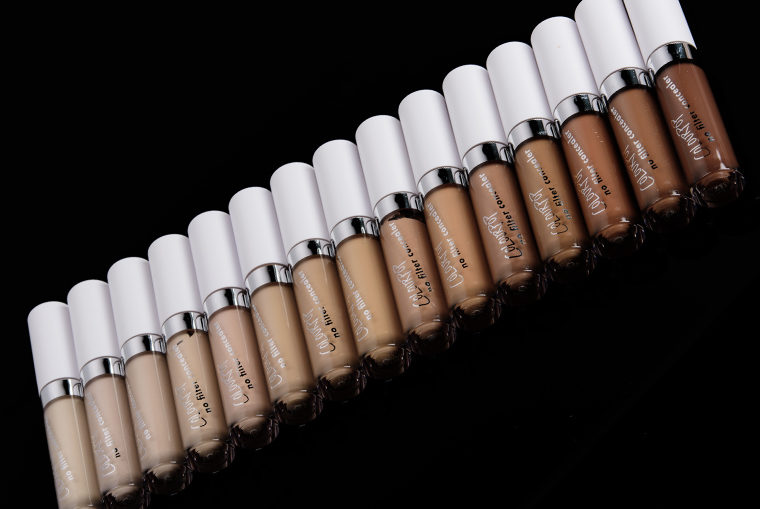 I think if I was stranded on a desert island and God only allowed me to bring two items of makeup, one would be lipstick (a burnt orange or a red, of course), but the more important one would be concealer. To me, concealer is the most used makeup item for me in my opinion– it's my foundation, my shade match, the sheet to cover my lack of sleep, and everything in-between.
Recently, however, my heart was disappointed when I heard about Colourpop's newest concealer collection. At first, many of us (myself included) were excited, because Colourpop's been the GOAT for years. It's inexpensive, the pigmentation rocks…and us women of color have been advocates for the brand long before it became a "household" makeup staple. Soooo…when their concealer shade range came out and we noticed that there's 80 million concealers for lighter shades and not many for browner women…I had to side-eye.
I've grabbed a few of my favorite makeup Youtubers who gave their honest opinions of the concealers, but overall, the dissenting opinion remained the same. For me, the saddening moment comes in realizing that though women of color of all shades have stood by the brand, richer, darker, and more melanated tones were overall left out of the collection.
I hate to be "that girl" in the discussion of beauty brands doing better, but I just really have a problem that we can create a concealer literally the color of printing paper but working to make sure there's a shade dark enough for the richest of colors out there seems to be a problem?
How say?
In my opinion, it takes more than just the work of places like Ebony or Essence discussing the problem of diversity in the fashion and beauty industry. We have to hold every brand, no matter who or what they serve to offer, accountable for what they're doing.
As well, lest we deny that not every brown woman has a red undertone. For makeup artists like Jackie Aina, even the darkest shade couldn't do much for her seeking a contour. Plus, Jackie is a yellow-undertone! My point is, diversity just STARTS at making sure that there is a representation of the color. After that, we need to reach into the depths of diversity and make sure there are shades for everyone, no matter what your color or undertone is. Financially, if black women spend 9 times as much on makeup then their other counterparts, we deserve representation to be made present, somehow at least!
All in all, I could find very few shades in the range that I would want to help my skin out in the winter, summer, highlight, and contour. Though a $6 concealer makes me really excited, thinking of LA Girl having a $3 concealer and still having a raaaaaaaaaange makes me believe that they don't know what they're doing. The tea is hot, and I shall GLADLY stir.
What do you guys think about ColourPop's concealers? Yay or neigh?